DUINDIGT (Netherlands) – Ladies Fegentri Cup – June 19th, 2011
#Activities & Events
#News about FEGENTRI
HH Sheikha Fatma Bint Mubarak Ladies Fegentri Cup
Rachel King won HH Sheikha Fatma Bint Mubarak Ladies Fegentri Cup in Duindigt. Congratulation to Rachel and her Club.
It was a real ladies' day. The Dutch representative Jadey Pietrasiewicz won two races on Arabian horses including the HH Sheikh Zayed Bin Sultan Al Nahyan Listed Cup with a prize money of 25,000 Euro on Poulain Kossak. Congratulation also to Jadey and her Club.
This International race for lady riders was one of the important races during the afternoon on the Emirates Racing Day on 19th June 2011.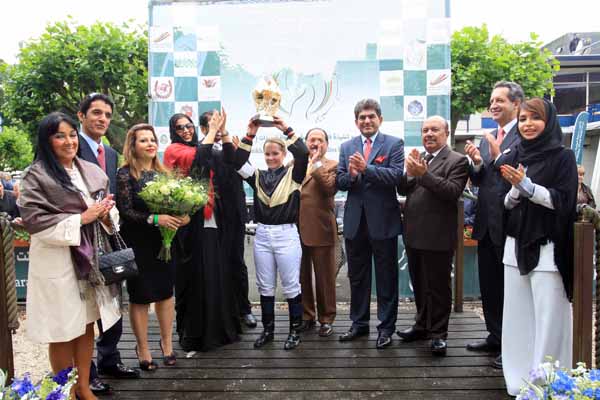 | | | | |
| --- | --- | --- | --- |
| Place | Rider | Nation | Horse |
| 1 | Rachel King | Great Britain | Sankado |
| 2 | Tina Henriksson | Sweden | Athlete del Sol |
| 3 | Jadey Pietrasiewicz | Netherlands | Phraseur Kossak |
| 4 | Sarah Leutwiler | Switzerland | Nil Karazi |
| 5 | Fatma Al Marri | United Arab Emirates | Vantage Lady |
| 6 | Rikke Munk Sörensen | Denmark | Mondilae Kossak |
| 7 | Shatra A.M.A. Al Haijaj | United Arab Emirates | Tarfa |
| 8 | Berit Weber | Germany | La Madou |
| 9 | Katherine J. Harrison | Ireland | RM El Nino |
| – | Fatma Al Manji | Oman | Siba |
Distance: 1,900 m (Arabian Horses)
Value of the Race: € 20,000 (€ 11,000 – 4,000 – 2,500 – 1,500 – 1,000)
Distances: 1 ¼ – 5 ¾ – 7 ¼ – 12 ¼ – 15 ¾
Trainer of the winner: C.J.F. Nibbering
Owner of the winner : C.J.F. Nibbering