Mauritius – Finale Lady Rider 2015 – in the press
Mauritius Turf Club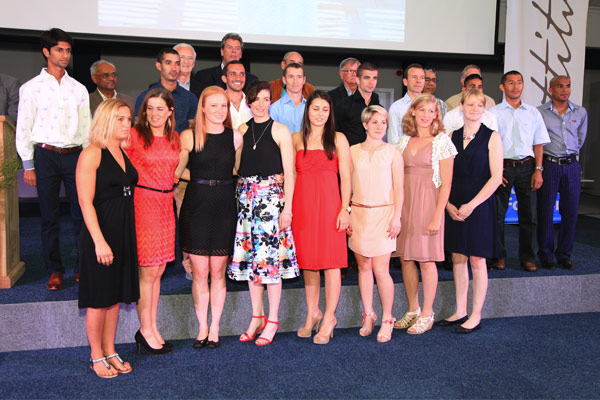 21 prix décernés et 79 montes attribuées
Création : jeudi 3 décembre 2015 23:41
C'est dans un cadre mauricien authentique, au Ravenala Attitude Hotel à Balaclava, que se sont tenus conjointement la Soirée des Equidors et le tirage au sort des montes du Attitude International Jockeys' Day, en début de soirée, jeudi. Patrice d'Avrincourt était le Master Of Ceremony.
Le parterre d'invités était composé d'Administrateurs et de hauts officiels du MTC, états-majors d'Ecuries, représentants des organisateurs de paris, lauréats des Equidors, sponsors de l'évènement, propriétaires des chevaux participant à la Journée Internationale, jockeys et cavalières participants et d'autres ''stakeholders'' de l'industrie hippique, sans oublier le Président de la Fédération Internationale des Autorités Hippiques (FIAH), Louis Romanet. Ce dernier, ainsi que Lindley Thomen, General Manager de l'Hôtel The Ravenala Attitude, et le Président du MTC, Jeenarain Soobagrah, ont pris la parole.
Dans son discours de circonstance, le Président du MTC a d'abord remercié les propriétaires et entraîneurs, sans lesquels il n'y aurait eu ni courses, ni compétition. Il est revenu brièvement sur les contraintes auxquelles l'équipe dirigeante du MTC a eu à faire face cette année, mais à partir desquelles elle a su tirer la motivation requise pour mener à bien sa mission.
Il a cité, comme exemple, la France et Hong Kong qui ont pris des décisions fermes et courageuses, tout en bénéficiant de l'apport de l'Etat, pour qu'ils soient à leur niveau actuel en termes de courses hippiques. Le MTC, a-t-il précisé, a pour sa part souvent rencontré des obstacles qui l'ont empêché de progresser, d'où la réticence des professionnels et opérateurs mauriciens, avant de réitérer l'importance des moyens et de l'aide de l'Etat.
A la fin de son allocution, Jeenarain Soobagrah a remercié les sponsors suivants, sans lesquels cet Attitude International Jockeys' Day n'aurait pu être organisé : Attitude Resorts, la Mauritius Tourism Promotion Authority (MTPA), Turkish Airlines, Best Construct, la Mauritius Profesionnal Football League (MPFL), Gloria Fast Food et Tiger Tropical, Alena Group et Mitavite.
Il a félicité les lauréats des Equidors de la cuvée 2015, et n'a pas manqué de saluer le Président de la FIAH, Louis Romanet, dont le soutien au MTC est indéfectible, et qui a tenu à honorer de sa présence l'Attitude International Jockeys' Day.
Le tirage des montes
Les cavalières de la FEGENTRI qui participeront à la dernière manche de leur championnat mondial, où la Suédoise Joséphine Chini et l'Allemande Michelle Blumenauer peuvent encore prétendre au sacre, ont obtenu les montes suivantes : Sheila Ahern – Leo's Rush, Michelle Blumenauer – City Treasurer, Marie Rollando – Fort Noble, Dina Heggum – Tiger Master, Celina Weber – Black Gambit, Carolin Stummer – Alberts Day, Joséphine Chini – Marine Sky, et Alice Bertiaux – Mc Naught.
Cela a été ensuite au tour des coursiers participant aux 8 autres courses de la journée de connaître leurs jockeys. D'une manière générale, on peut dire que les meilleures montes ont été éparpillées parmi les 12 jockeys en lice, ce qui est de bon augure pour la compétition. Cela dit, notre compatriote Nooresh Juglall devrait être très suivi, avec des montes telles Obama, Isipho, Traianius, Ryder Cup, Captain Magpie et Esteco.
Quant à l'autre représentant mauricien, Rye Joorawon, il sera associé à Saziwayo, Top Of The Chocs, Azapel, Silver Bluff, Shoddy Nick et Absalom.
Liste des récipiendaires des Equidors
Outstanding Groom's Award – Vedanand Caullychurn (Maingard)
Racetime Groom's Award – Omanand Jankee (Rousset)
Head Groom Award – Naresh Coomaloosur (Gujadhur)
Up and Comer Award – Kremlin Captain
Patience Award – Tales of Bravery (Maingard)
Best 4-Year Old – Kremlin Captain
Best Sprinter – Polar Royale
Best Miler – One Cool Dude
Best Stayer – Vettel
Top Track Rider – Sunil Bhundoo
Rides of The Day Award – Jeanot Bardottier
Best Press Tipster – Ali Mohedeen
Top Owners – Ramapatee, Tikanand et Dr Hemant Kumar Gujadhur
Best Strike Rate – Gilbert Rousset
Trainer with Most Wins – Gilbert Rousset
Horse of The Year – Kremlin Captain
Top Mauritian Jockey – Jeanot Bardottier
Champion Jockey – Derreck David
Champion Trainer – Ramapatee Gujadhur
Merit Award – Gilbert Rousset
Special Award – Rye Joorawon