In Memoriam – Comtesse Ludovica Albertoni
With great sadness the Fegentri has to announce the passing of Vice Honorary President, Comtesse Ludovica Albertoni, who died a few days ago in her hometown Milano / Italy at the age of 83.
From her childhood she was an important part of the Italian racing family. Ludovica started as a rider, won the Amateur Championship in the Years 1963, 1965, 1966 and 1967. She also found her great love among the Amateur Riders in Clemente Papi. The couple has had a major impact in horse racing sports in Italy, even after their active career.
Ludovica Albertoni was President of the AGRI for many years, directed the sport there at the highest level and was also a very dedicated owner of race horse.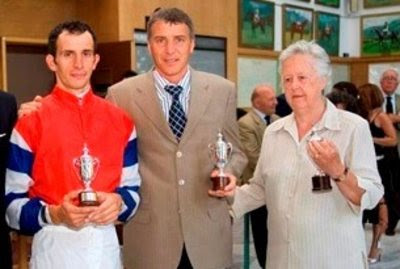 She celebrated her last big success on 30 September 2007 when her horse Halling Joy won the Gran Premio Merano.
Four years later, she retired as an owner. Her famous racing silks, the red dress with the blue and white sleeves, leave the stage on March 3, 2011 after Nobil finished fourth in the Premio Pardubice.
We will honor her memory and offer our sincere, heartfelt condolences and sympathies to Ludovica's family and friends.
Rest in Peace.